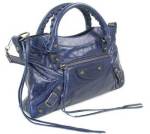 Only a few blocks from the new Stella McCartney spot, Balenciaga, the Gucci Group fashion and accessory brand, has inked a deal to move into 148 Mercer Street, brokers said. Balenciaga will occupy 6,769 square feet on two levels.
The space is being dramatically modified from its current configuration to create what the brokers called a "dramatic, open, column-free space." The company already has one store operating at 542 West 22nd Street on the far West Side.
Cushman & Wakefield's Michael O'Neill and Alisa Amsterdam represented the landlord, 577 Retail LLC, while Joel Isaacs and Marc Simon of Isaacs & Company represented Balenciaga. The deal is the latest in a string of fashion retailers to hit the once eatery-heavy Mercer Street.
"This lease completes the transformation of the Mercer streetscape and stands to substantially change the pedestrian traffic and shopping patterns in Soho," Mr. O'Neill said in a statement.