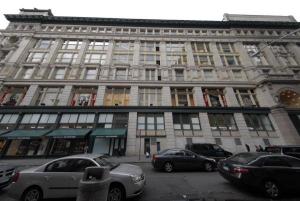 Hot on the heels of RXR Realty's purchase of the Starrett-Lehigh Building for $900 million and the sale of 111 Eighth Avenue to Google for $1.8 billion, Bed Bath & Beyond's building is on the block.
A partnership of Joseph Chetrit and Yair Levy, spearheaded by Charles Dayan from Bonjour Capital, bought the building for $289.8 million in 2005, according to city records. But with the trendy Chelsea office market enjoying a boom, driven in no small part by the tech bubble, the building could sell for around $500 million, according to some sources.
The owners took out a $235 million mortgage from Wachovia in 2006 and were close to default a few years later, according to The Real Deal.
The building currently has five tenants, including two long-term office tenants until 2030, as well as Bed Bath & Beyond, Marshall's and TJ Maxx. One-third of the retail is below market rate.
"This is the next big building," said Doug Harmon of Eastdil Secured, who is marketing it. "They have five million people who go through every year."
The top two floors are currently vacant, with 170,000 feet of contiguous office space, one of the few such big blocks of contiguous space left in Chelsea. Moreover, the building offers development potential, with 250,000 of additional FAR on top of the building and an adjacent site of 75,000 feet that could potentially serve as a hotel development.
"The market is on the move," Mr. Harmon said. "Where would you want to work and live if you could?"
lkusisto@observer.com