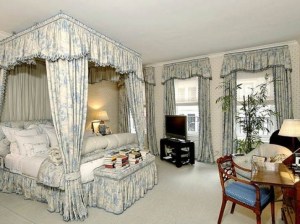 Benjamin Lambert, the chairman of brokerage Eastdil Secured, has been involved for decades in selling some of the city's most famous commercial real estate, including the G.M. Building and the New York Palace. One of the best deals he has ever done may be for his Upper East Side home, which just sold for $10.4 million, according to city records.
Mr. Lambert bought 69 East 82nd Street in 1978, two years after he also became a director at Hilton Worldwide. While the deed does not include a purchase price, mortgage documents show he took out a $300,000 loan on the place. Back of the envelope, he turned a profit in the neighborhood of 2,000 percent. (Update: If we're talking rate of return, though, it's a modest 12.5 percent.)
The buyers are W. Dexter Paine III and his wife Susan. He is a former KKR partner who now runs the Bay Area-based Paine & Partners. In January, they sold their two-bedroom pied-à-terre at the Sherry Netherland for $4.495 million to Roberto Moses Thompson Motta, a Brazilian investor on the board of Anheuser-Busch InBev.
The Paines will now be crashing a much bigger pad. The five-story redbrick dynamo has five bedrooms and six baths. A setback on the fourth floor creates the rare street-facing terrace. "Charming and in beautiful condition," writes the pack of Stribling brokers who had the listing: Cornelia Zagat Eland, Alexa Lambert, Emily Hanna and Marc Achilles. The home has been on and off the rental market for $50,000 a month, according to StreetEasy–not long after Mr. Lambert and wife Linda purchased a penthouse at 28 Laight Street for $6.9 million, plus a $207,000 parking space, in December 2006.
Downtown has come of age.
RELATED: Inside this reunion-ready townhouse. >>
Read past Manhattan Transfers here. >>