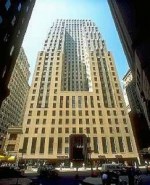 The Aegis Communication Group, the global business process and outsourcing provider, has signed a major 24,098-square-foot renewal at 80 Broad Street, The Commercial Observer has learned. The firm has occupied the 10th and 11th floors of the lower Manhattan building for seven years. The asking rent was $32.50 a square foot.
Brokers at Studley who negotiated the deal for Aegis said its search was broad, but, in the end, the firm chose to stick with its current office space.
Studley's Marc Shapses and Joseph Genovesi represented Aegis alongside Jason Schwartzenberg. Todd Korren, executive vice president for Swig Equities represented the building owner in-house.
"Studley worked closely with Kent Swig's team and together they developed innovative solutions for our operational and business requirements, thus making our decision to stay at 80 Broad an easy one," Aegis vice president of real estate Kato Hawthorne said in a statement. "We look forward to continuing our relationship and significantly expanding our downtown footprint in the coming years."
jsederstrom@observer.com