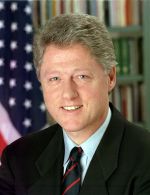 Last night, The Observer managed to catch the closing night reading of "Billy Blythe," a folk opera based on early life of President Clinton (who took his stepfather's name at age 14) at the Medicine Show Theater in Midtown, arriving just as a slideshow of documentary photographs faded to a piano ditty and sitting actors in blue-collar costumes.
Some 20 minutes into the play, a sultry, Rubinesque Virginia Blythe (Jessica Bowers) beckons her son to "come visit," and to bring her a cup of coffee while he's at it. Bright eyed, the eponymous hero (Alex Krasser), rushes over with a mug and sits at her feet.
"Did you know you make your coffee just the way I like it best?" Virginia sings as the piano accompaniment drops an octave.  "Your father was the only other one who seemed to get it riiiight." She sips. "Thiiick as syuuuuurrrppp. Oooo yeahhh this coffee oozes of your father's zest for liiiiife."
It was the most risqué moment in reading, but it put one in mind of another theatrical prince faced with his widowed mother's sexuality. Unlike Hamlet, Billy accepts his greatness readily.
"And what with father dead and gone it's up to me to live a life that's good enough for both of us," Billy sings, standing alone on stage. After a pause he adds, "Now I ain't talking pleasure stuff."
"He's looking past that because he is such a go-getter and he takes care of business," said composer Bonnie Montgomery, after the reading. A native Arkansan and great admirer of the former president, she's been at work on the opera since discovering the dramatic potential of his memoirs, My Life, in 2006.
"But you know," she said, covering a smile with her hand. "He has to address that pleasure stuff."
The most engaging character at the reading was actually Roger Clinton (Jason Thoms), the drunk, abusive stepfather who becomes a sort of bon vivant villain through the lens of opera. A burly, unshaven figure in large jeans, he's enraged that a local newspaper editor has named his dog after him, which actually happens in My Life, and leads a chorus of buddies in a taunting melody.
"Do you get off on calling me a dog?" Clinton bellows, hitting each iamb as if with a fist.
Several theaters in Arkansas are reportedly interested in producing the full play. In the words of the former president himself: "It works. The sets are great, the choreography is great. I love it. The story really hangs together."
Oh, but he was talking about Spider-Man there.