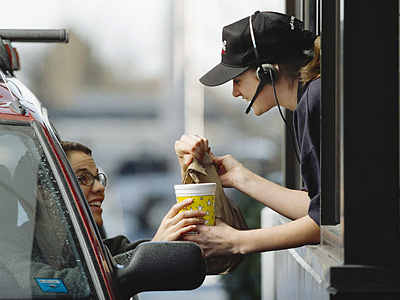 In a bit of breaking news, this morning, in front of our building on 44th street, The Observer heard the driver of a black Escalade with tinted windows that was stopped in a line of traffic at a red light demand: "Get me a cream cheese bagel!" The Observer thought the man was talking to him. The Observer thought, "This is strange."
As it turns out, he was yelling—from about 50 feet away—his order to the operator of a small silver food cart stationed curbside. The light turned green and the Escalade slid up to the food cart, held out a wad of bills and handed them to the cart's operator, who was already holding a brown bag with a cream-cheesed bagel inside.
Being in Times Square, we see plenty of strange and slightly inappropriate interactions between people. There was the time a car screeched to a halt in front of our former culture editor as he smoked outside the building and the driver shouted, "Give me a cigarette!" through his rolled down window. (Our editor, always a bit stingy, did not oblige.) But, given the noted lack of drive-thru restaurants in the city, The Observer considered the gentleman in the Escalade to have created as resourceful a solution as any to the absence of food on the go.
Well done, sir. Well done.