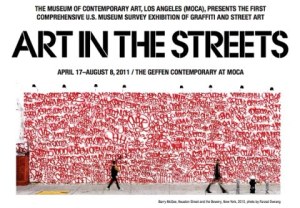 Citing continued financial difficulties, the Brooklyn Museum just announced that it will not host the "Art in the Streets" exhibit currently on display at the LA MoCA, as it had planned to next year.
Via press release:
"This is an exhibition about which we were tremendously enthusiastic, and which would follow appropriately in the path of our Basquiat and graffiti exhibitions in 2005 and 2006, respectively. It is with regret, therefore, that the cancellation became necessary due to the current financial climate. As with most arts organizations throughout the country, we have had to make several difficult choices since the beginning of the economic downturn three years ago," states Brooklyn Museum Director Arnold L. Lehman.
Sensing a conspiracy, Artnet Tweeted: "Brooklyn Museum cancels planned 2012 showing of 'Art in the Streets,' supposedly due to finances, not anti-graffiti politics." Respectfully disagree there, Artnet! The Brooklyn Museum's cash flow woes have been well documented of late. They cited similar reasons in announcing their recent decision to end late hours on Friday nights.