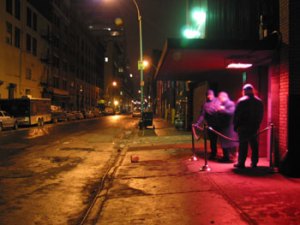 Once upon a debauched time, West 27th Street was the beat, beat, beating heart of the city's club scene, with such notorious haunts as Pink Elephant, B.E.D., Spirit and, of course, the queen of them all, Bungalow 8. Marquee still throbs around the corner, but that is about it—all thanks to an elevator shaft and a little rezoning.
New York magazine rather baroquely called the beginning of the end for the strip four years ago, when a Harlem postal worker was thrown to his death down an elevator shaft at B.E.D. Whatever spirirts that did not dampen, the recession, bilking bankers of their bottle-service bonuses, finished off.
In most parts of town, this would be a sad tale of shuttered storefronts, but this is West Chelsea, home of the $2 billion High Line kiss. As a result of the 2005 rezoning, a wave of (far classier) development has taken root on West 27th Street, according to The Journal, ushering in that happy mix of yuppy-tested, tourist-approved ever-so-slightly-gritty fun.
One such project is a new 56-room Hotel Americano. The boutique hotel will be finished in a few weeks and soft launch in August. Rooms will cost between $325 and $625 a night.

"When we bought the land four years ago this is actually what we imagined the area would look like," said hotelier Carlos Couturier of Mexican-based Grupo Habita. "It has easy access to tourist attractions, but you're still far enough from the chaos."

[…]

With the opening of the High Line, a flurry of new business is expected to open. Art dealer Paul Kasmin, a frequenter of Bungalow 8 in his youth, now plans to open a sculpture gallery in the famous club's former space. Gourmet catering company Pinch Food Design will open a catering hall in a new rental, the Chelsea Muse.
At least they're not replacing the clubs with bank branches or TGI Fridays.