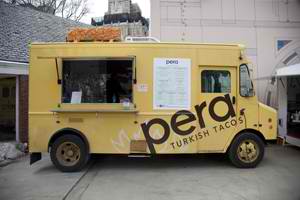 If you're too embarrassed to go to an actual bar to take the edge off on your lunch break, just stop by the Turkish Taco Truck in Central Park. The food truck began selling beer, wine and cocktails today, the Journal reports, blazing the trail of this new innovation for the portable-food business.
The Turkish Taco Truck's owner, Burak Karacam, told the Journal that his truck's one-year liquor license is a "precedent-setting privilege."
But don't get your hopes up that every food stand on the streets of New York is going to start offering cocktails. The taco truck is permitted to sell liquor because it has a fixed location and a seating area—luxuries that aren't available to every outdoor vendor in the city.
pengel@observer.com