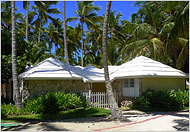 This time of year, we tend to focus our attention on vacation homes on the East End of Long Island. But the most notable vacation home sale of the season may have just happened down south, on a very different island. Morally bankrupt Congressman Charles Rangel has sold his decades-old beach retreat in the Dominican Republic.
The sale was revealed in the Harlem rep's financial disclosure statements—the same statements off which he left about $75,000 in rental income from "casita No. 412" over the years. The non-disclosure, which was reported by the Post and The Times three years ago, propelled Congressman Rangel into an investigation that would eventually lead to his censure by the House (and that's about it).
Daily News reports that the seaside villa fetched between $250,000 and $500,000, according to the disclosures, a nice profit from the $89,000 he paid for the pad in 1987. On top of that, he made between $100,000 and $1 million in rental income from the home—funds that may well be needed to pay the congressman's millions of dollars in legal fees stemming from his congressional investigation.
The Post described the casita as the nicest in the resort in its August 2008 report:
His three-bedroom, three-bath villa, which can accommodate three couples, is rented for between $500 in the low season to $1,100 a night in the busiest tourist season and is one of the resort's most popular, managers and staff say.

"You are requesting the best casita on the beach," a reservations manager told a Post reporter posing as a customer. "We are always booked solid on that one between December 15 and April 15. It is always the first one to go."
The sun continues to set on Charlie Rangel.