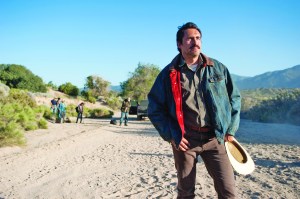 This week, I saw one good movie and two unspeakable piles of garbage. From where I sit, that's a pretty fair average for the summer. And I didn't even see the one about Jim Carrey and the penguins.
The one to catch is A Better Life, an intelligent, heartfelt study of the Olympian daily struggles of an honest, hard-working single father who also happens to be an illegal immigrant, toiling as a Mexican gardener in Los Angeles, while doing everything he can to keep his head above water and protect his 14-year-old son from the toxic environment of the ghettos in East L.A.
Working from a careful, balanced script by Eric Eason, the director is Chris Weitz, son of the late fashion designer John Weitz and the stunning actress Susan Kohner.
Having already shown great promise as an actor (Chuck and Buck) and director (sharing credit with his brother Paul on About a Boy), he hits his stride with A Better Life, an earnest, uncluttered and thoroughly realistic portrait of what it's really like to be down and out in Beverly Hills.
You see them, leathered by the California sun with eyes dark as black olives, trimming and shaping the hedges that guard the estates of bankers and movie stars like leafy sentinels, planting purple bougainvillea, scaling ratty palm trees with safety belts around their paunchy guts—faceless outsiders in Xanadu, like the monkey soldiers in Oz, working impossible hours for slave wages to beautify the lawns and prune the ivy of the rich and famous who treat them with indifference and rarely even glance at their faces, tipping them once a year if they're lucky with a case of Corona Lite. You wonder where they go at night, how they live. The best their children can ever hope for is mowing grass or repairing car engines. How can they keep the American dream alive if they're not even American citizens themselves? This is the story of one man who tries. Carlos (played by renowned Mexican star Demián Bichir) instills in his son Luis (José Julián, an American actor making his debut) the importance of an education, but when his back is turned, the boy is always being tempted by the lure of street gangs in the barrio who make money from petty crimes. Determined to be a decent, trustworthy and respectable person, Carlos betters himself by borrowing his sister's hard-earned life savings to buy a truck that will ease his work load, double his income and pay off his debts. When the truck is stolen on the first day on the job and sold on the black market, the desperate old man and his compassionate kid are forced to test the principles of honesty and fair play, and two generations come together in unexpected ways to forge a new relationship. The parallels between A Better Life and Vittorio De Sica's postwar 1948 classic The Bicycle Thief are unmistakable, as Mr. Weitz details the poverty, gangs, police harassment and survival techniques of immigrants trying to remain invisible in order to escape arrest and deportation. This is a theme that has been explored before, but never with this much harrowing nuance and poignancy.
The red tape and emotional turmoil immigrants go through to make a contribution to the country they adopt is wrenching enough to make you ask hard questions of the U.S. immigration laws and the hostile, cruel and often criminal government employees who enforce them (sometimes resorting to blackmail). Avoiding the detritus of politics that could confuse its audience, the film presents no clear villains and makes no demands for reform, but there is no question whose side the viewer will be on when Carlos's luck runs out while he tries to save himself from jail and his teenage son from a bleak future at the mercy of predators on the streets of Los Angeles without paternal guidance.
Working in both English and Spanish with subtitles, Mr. Bichir is nothing less than perfect. In his sensitive portrayal of the kind and rational Carlos, the planes of his face seem salted by hard labor and determination, showing the dilemma of a man forced to break the law in order to stand up for his rights as a human being. In the lines of his face and the tears in his eyes, you don't need to overanalyze outdated laws. The simplicity of the straightforward narrative provides its own morality, and the film engages the senses and rivets attention because it is less about preachy soapbox amendments and more about the definition of family values when the odds are against you. Mr. Weitz never makes the same film twice. This time, aided immeasurably by first-rate actors, marvelous cinematography by Javier Aguirresarobe, and low-key but dramatically surging mood music by Alexandre Desplat, he gives us food for thought about the despair of good people without documents, without whom America could not function, and the apathy of the privileged classes that benefit from their sweat the most without lifting a finger to help them. The "better life" in the title ends up, in the bigger picture, benefitting us all. The power in this movie is the way Chris Weitz trusts us to discover the facts for ourselves.
rreed@observer.com
A BETTER LIFE
Running time 98 minutes
Written by Eric Eason
Directed by Chris Weitz
Starring Demián Bichir, José Julián
3/4