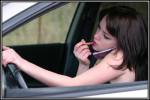 Gov. Andrew Cuomo introduced new legislation today that would crackdown on use of portable electronic devices while driving–and not just Blackberrys and smart phones, but IPads, laptop computers, gaming devices and talking on a cell phone without a hands free device.
"Every day, countless drivers, particularly teenagers and young adults, drive with their eyes on a screen rather than the road,"  Cuomo said. "Current warnings, educational programs, and driving laws aren't working. We need to impose a true deterrent to stop people from driving while using an electronic device and to keep our roads and citizens safe."
The new bill would change the current law which says that driving can only be ticketed for using a portable electronic device if they have already committed a offense like speeding or disobeying a traffic signal.
The bill would increase penalties for distracted driving to up to $150, increase the penalty from two to three points, and require that distracted driving be included as part of the defensive driving curriculum.