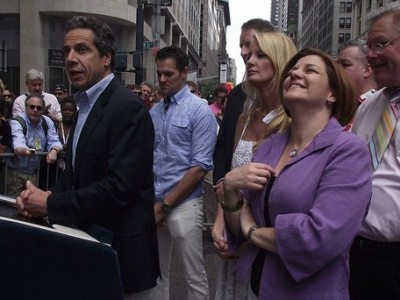 After receiving a hero's welcome at the country's oldest and largest gay pride parade in Manhattan today, Governor Cuomo said he hoped New York's legalization of same-sex marriage would "resonate all across the country now."
Cuomo politely deflected questions about President Obama's reluctance, so far, to support same-sex marriage, saying, "If New York can do it, it's okay for every other place to do it. If New York did it, every other place is now going to be posed with the question" about legalizing same-sex marriage.
Asked how he would ensure other states do that, Cuomo said, "I think the power of our example is going to be instructive to other states." He won't, though, be traveling outside New York to do so. Cuomo, who has avoided leaving the state even while on brief vacations, said, "I have a lot of work as governor. I'm going to stay right here."
City Council Speaker Christine Quinn, who is openly gay and lobbied lawmakers on this issue, said marching alongside Cuomo today was surreal.
"People were crying and screaming thank you and just screaming the governor's name and everybody's name. It was like nothing I've ever seen before," she said.
When asked about President Obama's position on same-sex marriage, Quinn, a fellow Democrat, was hopeful he'd support it eventually. She also credited him with helping turn public opinion that enabled last week's victory in Albany.
"I'm very very grateful to President Obama for the actions he's taken on Don't Ask Don't Tell, the action he's taken on the Defense of Marriage Act," said Quinn. "I think that step was really helpful in changing public sentiment in New York to get us to the 60 percent that support marriage. So, I just want the president to keep moving in the right direction."