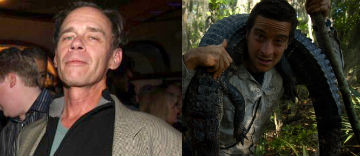 The Most Exciting Documentary In The Entire History Of The (Navel-Gazing Media Reporting) Universe™, Page One, is coming to a limited-release cinema near you.
And with it, a star is born: New York Times media reporter David Carr.
Yes, those same movie theaters that beam Twee indie movies like Garden State or Sophia Coppola's latest into people's heads are now bringing Jersey's own Timesman, Mr. Carr—pictured above, left—to the silver screen. It was a natural fit long before the cameras entered the building: the Media Equation writer has had a wild career long before ascending to the Times, including but not limited to dalliances with crack cocaine as detailed in his memoir, The Night of the Gun. Debate about the film's politics or message aside, those writing about the film seem to single out Mr. Carr in particular: his "performance" in the film has been pored over more vividly than the image of any other reporter in the country—and certainly, the Times—in recent memory.
New York Times reporters don't get the movie star treatment without causing some kind of intense ruckus (see: Judy Miller, Jayson Blair, or alternatively, Maureen Dowd, Frank Rich, or Andrew Ross Sorkin). The last two Times writers to appear in major films at all only had brief cameos (Mr. Sorkin in the HBO adaptation of his book, Too Big to Fail, and Paul Krugman as a comic foil to Jonah Hill and Russel Brand in Get Him to the Greek).
The descriptors used for Mr. Carr are not what you'd normally find in those typically characterizing Times reporters; they sound more like that of a film noir detective; they could also easily be mistaken for another "survivor" in a "treacherous environment" (such as the Times is), Man vs. Nature's Bear Grylls (pictured above, right).
As such, here's a (by no means comprehensive) grouping of the adjectives and descriptors from the last few weeks of press on Page One and Man vs. Nature. Are they describing David Carr, or Bear Grylls? Go!
Finally, an easy one, but extra points if you guess the author:
A sequel to the film is unlikely, but in the event film producers have extra cash on hand, the Observer is currently crafting a pitch wherein Mr. Carr and media desk men Brian Stelter and Bruce Hedlam eat a fistful of peyote in the desert and are tasked with coming back from a vision quest with new ways of making the paper more profitable. Given the aforementioned reviews of Page One and the star-like qualities evident in the Times newsroom by them, we're practically insuring a sure-fire formula for all stripes of audiences' enjoyment everywhere.
fkamer@observer.com | @weareyourfek