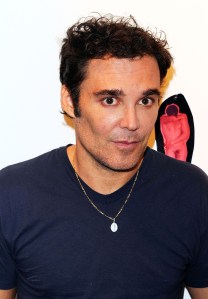 "Man," said Alberto Mugrabi as he approached Aby Rosen. "This came out great, huh?"
Mr. Rosen nodded and gestured at a collection of nude men in crucified positions on the wall. "Lots of dicks," he said.
It was Thursday and the two were feting a collection of work by David LaChapelle. Lever House was packed with swarms of people who, for whatever reason, weren't at the Venice Biennale. The bar was so crowded even Mr. Rosen couldn't get a drink.
"Transvestites should always be around," Mr. Mugrabi continued. "Warhol was a great fan of the drag queens and it's great to see them back 'in.'"
Among the guests was Amanda Lepore, a favorite subject and friend of Mr. La Chapelle's. Ms. Lepore recounted a Courtney Love shoot. "I remember they made her up, like, so beautiful, she was sort of like Madonna." she said. "She was four hours late, and she wanted a boatload of glitter and she passed out in the glitter like this"—Ms. Leopore threw her arms out and fell forward into an invisible pile of glitter—"and the makeup artists were going out of their minds."
As for the art itself, it was meager. A raft-themed collage greeted visitors at the entrance, there were the aforementioned male anatomy pics, and kindergartenlike paper chains of nude bodies hung from the ceiling. That was mostly it. In aviators and shorts, the gallery owner and Work of Art judge Bill Powers decided to "go crazy with the deconstructionist readings," as he put it.
"I think this raft is based on Raft of the Medusa, right?" he said. "So if you think of that as Raft of the Medusa, you could almost think of that"—the chains—"as netting."
He let the sentence hang. And then shrugged. The penises were self-evident. —Dan Duray