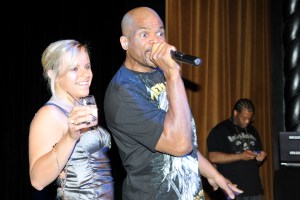 At the Edison Ballroom last Wednesday Judah Friedlander stood awkwardly by the door, looking out at the dance floor where guests gyrated and boogied to Michael Jackson. In his outfit – like always, a trucker hat, jeans, and a ratty tee-shirt — he looked out of place, as if he wasn't invited. It turns out he actually wasn't.
"I crashed the prom" he said.
It had been a while, but The Observer remembered that, yes, this is what prom was like —  the '80's synth tunes, the awkward dancing, the forced mingling of boys and girls, the massive platters of assorted finger foods. The attendees, high schoolers none of them, came to the Edison Ballroom to support the Urban Arts Partnership, an organization that seeks to promote and advocate for the arts in underserved public schools. The night's event, "The Prom of Your Dreams", raised both money and awareness for the organization.
"I love the theme!" said actress Rosie Perez, Urban Arts' Artistic Board Chair, "This is just amazing…I'm overwhelmed tonight." Perez has worked with the organization for nearly twenty years, and her involvement has inspired other entertainment industry majors to become involved.
"Rosie is how I got interested in the program," said Michael Kenneth Williams, star of HBO's The Wire and UAP board member. "She had me go to the high schools with her, then she got me on the board of directors, then I gave her my first born, and then I was like, Okay, my whole life is dedicated to Urban Arts Partners."
As cocktail hour ended, hip hop artists Dres and Darryl "DMC" McDaniels bounded onstage, the hype man bellowing exclamations into the microphone. During his performance, DMC said that, thanks to the efforts Urban Art's efforts, students involved with the program "don't just do well, they excel."
"You can use the arts to change people's lives!" Mr. McDaniels told The Observer backstage, his hands gesticulating up and down. "Urban Arts is just incredible because it's inspiring, it's motivating… it's educational. It's all about education."
Mr. McDaniels paused and his hands and feet went into a rare state of rest.
"Urban arts teaches these kids that they are worth something," he said. "It gives these kids a sense of purpose and destiny, a sense of importance. I love it because I'm still that little kid."