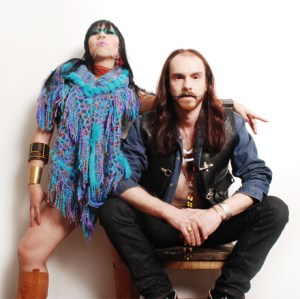 On Friday, The Observer traveled back in time, somewhere around 1982, to Sugarhill Supper Club, an old bar and disco in Bed Stuy that is virtually unchanged since the heyday of Donna Summer. Crystal Ark, the electro-orchestra of Gavin Russom (a long-time fixture of James Murphy's DFA Records), was playing.
"Sugarhill Supper Club? Is that place still open?" Asked a kind subway operator who was helping us navigate the myriad construction issues on the dreaded G train. "I used to go there when I was 20-years-old. I'm 44 now! Why are you going to Sugarhill Supper Club?"
"Why not?" The Observer thought when entering the building. The place was a dimly lit paradise with gaudy neon lights, red carpet, mirrors covering most of the walls, and a very out of place Street Fighter II arcade game tucked away in a dark corner. Upstairs was the actual supper club, a strange contrast with crystal chandeliers and waiters in black ties (stranger even was the view of the comparably gritty Brooklyn street below). Sugarhill specializes in Southern cooking. While The Observer ate fried chicken with his companion, Mr. Russom and his crew were applying makeup and slipping into white track suits. Our friends ABRACADABRA were hosting.
Crystal Ark plays slow-burning robotic funk that fit the place well. Last Friday was just their third live show, but they perform with the self-assurance of a group that has been together for decades. There were three back-up singers, led by the artist Viva Ruiz, one live percussionist (with a very complex cowbell rig), a drum sampler, a bassist, Mr. Russom on additional keyboards and vocals, and two dancers dressed in belly dancing garb, frozen in place in strange positions more often than moving, like human sculptures. They played long disco jams, each instrument slowly fading in until the music reached an apogee of cluttered noise and rhythm.
"We recorded three records," Mr. Russom said about a half hour into the set, sweating but hardly spent. "We just played two of them. That was two songs!" he announced, rightfully impressed with himself. "This next song is one of the greatest songs ever written. It's only a coincidence that I wrote it."
They began playing and, as if on cue, a strange man with long dreadlocks–peaking on Ecstasy–stole The Observer's companion.
Hey, no one ever said disco had to be humble.