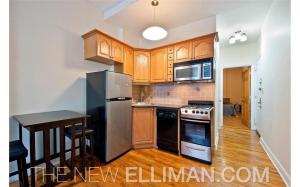 An unanswered door at a Hell's Kitchen open house set the tone for the rest of the afternoon.
Nobody showed up this past Sunday afternoon for three open houses in two Hell's Kitchen buildings—at least as far as we could tell. Despite a posh lobby and modest prices in the first building, it was slim pickings for the brokers.
"This apartment has been on the market about two months," said Bryan Tomczuk, a broker for one of the co-ops, adding that at previous open houses he's seen between three to five prospective buyers.
The studio apartment, located at 430 West 34th Street, was asking only $275,000 and although it was not exactly spacious—the kitchen probably could not fit more than one person at a time—it seemed like a steal considering its surroundings.
"It's a good value compared to what your money will get you in Chelsea," Mr. Tomczuk said, name-dropping Hell's Kitchen's decidedly hipper neighbor. "[In Chelsea] $400,000 will get you a shoebox studio."
Hell's Kitchen (and its attendant enclave of Hell's Foyer) is still a little rough around the edges with some low brick buildings and dingy storefronts that maintain the character of a grittier past, but now trendy sidewalk cafes and big office buildings also line the streets (including The New York Observer Building!). The area's abundance of chain restaurants might make you feel like you're in a Jersey suburb, but there is still plenty of city charm to go around.
And if none of that strikes your fancy, the Related Companies' Hudson Yards mixed-use mega-development could yet do so. The development aims to transform the area near midtown west into its own mini-city complete with retail, commercial and park space. "It will be a destination location," Mr. Tomczuk said. "… I think it can only help."
So get your Hell's Kitchen apartment while it's still reasonably priced (and few are looking)—costs could rise once developments from Hudson Yards are completed throughout the next decade.
Four other apartments at 430 West 34th Street are for sale, according to Streeteasy.com, and a one-bedroom apartment at 438 W 49th Street is on the market for only $325,000. No potential buyers showed for the last 20 minutes of this open house, but this co-op was a gem. The bathroom and kitchen are newly renovated and there is plenty of space to spread out with a separate bedroom and modest living area. Pair the pleasing interior with a calm, tree-lined street and you have a nice place to call home.
pengel@observer.com