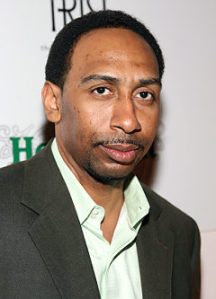 ESPN Radio's recent efforts to drive ratings by cultivating "personalities," a la Glenn Beck and Rush Limbaugh, seem thus far to have driven in-house rivalries.
"I will say to you that the impediment to being a journalist is that you had to maintain total objectivity," said ESPN Radio host Stephen A. Smith on Thursday.
The former Philadelphia Inquirer columnist drank black tea after lunch at a faceless midtown sports bar, where ESPN Radio offered the personalities to sports and media press.
Mr. Smith is known for his chumminess with players; it's given him a competitive edge over traditional news sources. He's had first reports on stories like LeBron James's move to Miami, or Allen Iverson's descent into alcohol and gambling addictions.
"Even before I wrote things that were critical of [Iverson] I was like, I'm warning you, you keep doing this and doing that, I'm telling you, I'm tired of holding this stuff back."
He added that any perception of friendship had been cultivated over years.
"I know that years from now we're going to be friends," he said. "I've been over to their houses, had dinner with their family."
His ESPN colleague Skip Bayless, perhaps less popular in the locker room, has been critical of such fraternizing. He recently said that the ESPN writer Chris Broussard, who confirmed Mr. Smith's reports about LeBron James's move, had "sold his journalistic soul to get close to King James."
"Skip Bayless is crazy," Mr. Smith said. He remembered five years ago Mr. Bayless proposed that players should be forbidden from nightclubs in their contracts. "He means it. He's not playing."
The next day Mr. Smith was scheduled to appear on Mr. Bayless's show to debate the role race played in the LeBron backlash.
"I do respect him. I may be in the minority," Mr. Smith said. "I just think he's not far from the cuckoo's nest."