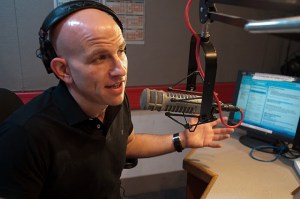 Until a month ago, ESPN 1050's morning drive host Jared Max didn't like to go out. He didn't want to risk being seen doing something gay.
He abandoned a career in TV under the same anxiety. Someone who knew something that could get him in trouble might spot him. He switched to faceless radio.
"In our gotcha media, people try to bring people down," Mr. Max told Off the Record in a Koreatown coffee shop not far from the ESPN broadcasting station above Penn Station.
But since coming out to his listeners on May 19, just two weeks into his new gig at ESPN, Mr. Max worried about a more glamorous gotcha: gossip columns.
"My brother and my dad were joking about me being out with someone particular who might get noticed. They were saying, 'You don't want to wind up on Page Six!'" he said.
"I was thinking, 'Wait a second, what's the problem? I'm not doing anything wrong. We all know I'm gay at this point, so what if I'm seen holding hands with someone?'"
"If that's what I was doing!" he added. Off the Record failed to extract further details about the tabloid-material date. He said it was the only one he'd been on since coming out on air.
Mr. Max, 37, had been in the closet for all 16 years of his professional career in the testosterone-rich world of sports journalism. The standard uneasiness about locker rooms kept him quiet, but after a week in which former basketball star Will Sheridan, Suns owner Rick Welt, and CNN anchor Don Lemon came out, he felt compelled to speak up.
The next morning he read a seven-minute piece which was half tear-jerkingly sincere, half radio jock swagger and peppered with sports metaphors.
"Yeah, the sports guy that's one of the most recognizable voices in New York sports isn't exactly playing on the same team," he said. He later said, "Life is too short to be silenced by ideology that's rooted in bigotry."
Mr. Max told Off the Record writing it had taken only fifteen minutes–but also his entire life–to write. He had been planning on being a sportscaster since he was five years old, narrating play-by-plays of one-man football games in his backyard.
"When I got the job at ESPN, I was quoted in the Daily News saying, 'I think I see things differently than most of the sports guys do,'" he said, "Looking back at that after coming out on the air, that's probably what I meant, I just have a little bit of a different make-up."
Mr. Max skipped coffee and stuck to water. He was headed back to Bergen, NJ, where he recently bought his first home, for a nap. Since he gets up at 1:30 every morning, he sleeps in four hour shifts, and afternoon nap and then bedtime at 9 p.m.
It's thrown a wrench in his workout routine–although you couldn't tell from looking at him–not to mention his dating life. He complained that he ripped out his lawn two weeks ago, but hasn't gotten around to seeding it yet.
He was resting up for a ritual dinner with fellow ESPN host Don LaGreca and eight other radio guys. An undisclosed restaurant in New Jersey periodically shuts down the backroom so they can smoke cigars, eat steak, and play poker in illicit peace.
"When I went for my first one, I was scared I was walking into what could be a lion's den," he said. "I wasn't wrong, but it wasn't anything hateful. It's just like being undercover."
Now that he's out of the closet and on the town, Mr. Max has ventured into Chelsea. He became a fast fan of Boxer's, a gay sports bar on 20th Street.
"I grew up going to ballparks. Now at this age going into these places I feel like such a rookie," Mr. Max said. "Usually when I'm in those places, maybe it's a crutch, but I immediately find myself looking up at the TV and watching the game. That's home."
He said he'd love to get back on it someday.