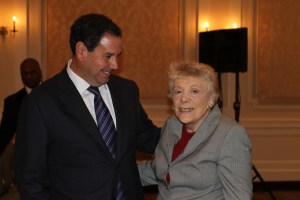 Evelyn Y. Davis, the octogenarian corporate gadfly, is best known for yelling at Lloyd Blankfein, the C.E.O. of Goldman Sachs (GS). Last week, she showed a softer side at the shareholders' meeting for Saks Incorporated.
"We get along fine," she said of Saks Inc. "It's not as controversial as Goldman Sachs."
As is her habit in what she calls "my season" (it's a circuit she travels all spring, crisscrossing the nation and heckling C.E.O.'s), Ms. Davis arrived one hour early to the marble halls of the University Club and quickly ordered an employee to sound check her hearing assistance device.
"One-two-three-four," said the employee into the microphone.
"Not that," she snapped. "Say something else. You have to be imaginative!"
She turned to her notes. Among other things, she wanted to complain that Saks had stopped carrying the L.A.M.B. purses she likes, and to ask why Saks doesn't stock more shoes with round or square toes (as opposed to pointy) and medium-size heels (as supposed to stilettos).
As she does every year, she also carefully chose her outfit to quiz Steve Sadove, the C.E.O. Mr. Sadove aced his exam: Akris Punto jacket and skirt, black-and-white Ferragamo shoes (square toes, medium heels) and a canvas Prada handbag. Ms. Davis was delighted.
"He guessed it!" she crowed, "He guessed it right away!"
"I'm right most of the time," said Mr. Sadove sheepishly.
"He's much better than his predecessor," said Ms. Davis. "I didn't even have to give him a hint."
She settled herself back in her chair, taking out her notes once again. "Fashion on sale is a hobby of mine, like stocks," she said happily. "I'm a rich woman, but I like bargains."
ewitt@observer.com