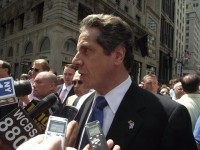 Anthony Weiner, reeling from questionable answers about a lewd photo sent from his Twitter account to a young woman in Seattle, canceled appearances at two major political events in New York City on Sunday.
Organizers of the legislative breakfast hosted by the Met Council on Jewish Poverty said Weiner called to confirm his attendance, but the six-term congressman did not attend. (The event, held in the Roosevelt Hotel, drew a number of elected officials, including both Senators Schumer and Gillibrand, City Council Speaker Christine Quinn, Assembly Speaker Sheldon Silver, State Comptroller Tom DiNapoli, Rep. Charlie Rangel, Manhattan Borough President Scott Stringer and Manhattan District Attorney Cy Vance, to name a few.)
At the breakfast, Mayor Michael Bloomberg — whose campaign aides helped push Weiner out of the 2009 race — said he wanted everyone to focus on more pressing issues, like the economy and immigration.
"I know why this is great theater, but it's time to get back to work," Bloomberg told reporters after speaking at the breakfast. Asked if he felt "sorry" for Weiner, the mayor paused, then added, "I think it's time to get back to work. I don't want to add any fuel to the fire."
At the Israeli Day Parade along Fifth Avenue, Governor Cuomo was asked repeatedly about Weiner, who until last week's scandal, was one of the Democratic Party's most recognizable figures and a leading candidate for mayor in 2013.
"I don't know where he is," said Cuomo. "I don't know what his plans are."
Asked if Weiner's week-long scandal hurt fellow Democrats, Cuomo said that it hasn't.
"I don't think it's damaging to the party. The impact on the congressman and what it means to people, we'll wait and see," he said.
When a reporter asserted Weiner's controversy "can't be good for the party," Cuomo replied, "I have no comment on that."
Some of Weiner's colleagues, like Rep. Carolyn Maloney of Manhattan and Queens, expected him at today's festivities.
"He may be coming, I don't know," Maloney said at the start of the parade. "He may be here. He usually is. I think he'll probably be here."
New Jersey Senator Frank Lautenberg said "I think it would have been a good idea" for Weiner to attend the parade and referred to him as "an outstanding political figure, very reliable."
Public Advocate Bill de Blasio, a likely 2013 mayoral candidate, declined repeatedly to comment about Weiner, who he's worked closely with in the past.
The 2009 Democratic mayoral candidate, Bill Thompson, who has already declared his intention to run in 2013, was unhesitating in his characterization of Weiner's problems.
"It has become a huge distraction," said Thompson, according to the Daily News. "Every answer raises another question."
Weiner's spokesman did not immediately respond to an email Sunday seeking comment.