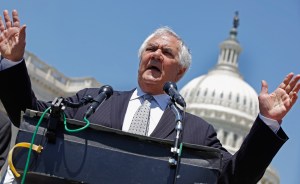 Massachusetts representative Barney Frank recently descended on Wall Street to
assault the entire financial sector per usual
ask for money. This actually happened.
Dealbook reports this morning on Rep. Frank's newest manner of dealings with Wall Street, the If You Can't Beat 'Em, Take Their Money approach. Rightfully marveling at Mr. Frank's "pugnacious" "chutzpah" and leading in with the layup Frank Capra-reference ("Mr. Frank Goes to Wall Street"), they also duly gawk at some of the masochistic and starry-eyed audience Mr. Frank managed to attract for upwards of $1,000 a head.
Yesterday on Marketplace, Heidi Moore went to those holding the fundraiser for Mr. Frank (SIFMA, or Securities Industry and Financial Markets Association), and  they declined. Rep. Frank himself also declined to comment, but through a spokesperson, noted: "If Wall Street is trying to buy influence with him, it has been a dramatic failure."
That did not sway those interested in Mr. Frank's dinner: Glenn Greenwald at Salon wants to know how Mr. Frank feels this appears to others. Tim Carney at the Washington Examiner says that if you're shocked, you're not watching, and Mike Signorile is just pleased with his awesome timing: Frank's going to be on his show later this afternoon at 4:30 PM EST.  Many will be listening. Until then, it may be best to soothe yourselves with the sweet sound of Rep. Frank's apocalyptic raging at Wall Street to ready yourself for whatever fun context he has to add to the hangover of bad press he just picked up from this thing today. Or this, if you're into that kind of thing.
Still, what everyone wants to know beyond Rep. Frank's inevitably boring press line of "nuance is as nuance does" is: Who ponied up to hang with him? Dealbook staked out the door and noted the four security guards keeping them far away from whatever piss-poor chicken or fish choice donors were given, but still managed to spot SIFMA VP Randy Snook and former Goldman Sachs lobbyist Marti Thomas (who they couldn't "positively identify").  That said, if you know the guest list, or were actually there, by all means: we're all ears.
fkamer@observer.com | @weareyourfek