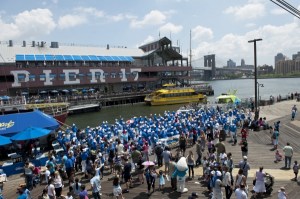 Surrounded by a mob at South Street Seaport of at least 300 sweating, blue faces – including as many adults as there were children – The Observer was a bit scared.
"There are so many blue people," said a passerby. We nodded.
And that was just New York – 4,891 people last Saturday in 11 different cities worldwide painted their faces blue and donned floppy white hats, setting the Guinness World Record for "largest gathering of people dressed as Smurfs within a 24-hour period in multiple venues."
Having already painted a white-walled town in Spain blue, here was Sony's next publicity stunt for the upcoming Smurf movie. (At least the New York skyscrapers were spared.) They called the affair, held on the cartoon creator's birthday, Global Smurfs Day.
Vivian Anderson, program director at a local YMCA where they are about to begin a summer camp that uses Smurfs to teach core values such as healthy living and social responsibility, explained she felt blue was a healing color, associated with the calmness of the water or the sky.
But we were stressed. By noon, the Sony people who were handing out the free costumes and face paint, had already run out of blue gloves.
"It's a little weird you know what I mean," said a sympathizer, who claimed he possessed an "inner-blue" and therefore refused to paint his face. "I'm terrified as we speak."
Perhaps it would have been more manageable if everyone had been seven inches tall as the Smurfs are, but some were nonetheless in their element . Jessica Klein, 23, had come already dressed in her own Smurfette costume – complete with a blonde wig. "I just love doing random things in the city," she said, alluding to her addiction to attending various costume events in Manhattan, even if it means going by herself. "The kids' events, those are the most fun."
After applying face paint to even her ankles (One onlooker noted: "I'm sure all the nerdy dudes are hitting on her."), Klein found a friend in Helen Perent, or "Sunny Smurfette" as she is nicknamed.
Perent had driven 8 hours from her home in Canada with a homemade costume in order to participate in the count. A Smurf item collector, she estimated that she owns around 2,800 Smurf trinkets, ranging from figurines and posters to "furry friends." She bought two Smurf toys the night before in a New York City shop because she felt they looked lonely on the shelf, and planned to spend that afternoon searching for more.
"Smurfs are my life," Perent said through a Smurfette mask. "They're sweet and innocent and pure and peaceful, and that's what the world needs." Later, she gave The Observer a Canadian flag pin as a token of friendship. (The expensive Smurf pins, after all, couldn't leave the collection!)
Perent and Klein entered the Guinness counting pen without issue, but not all made the cut. Regardless of excuses such as skin allergies and recent eye surgery, one of the three Guinness Records guardians – clad head to toe in black – would turn anyone with exposed skin away with instructions to apply paint if the person wanted to be counted. White pants and a blue top were also required, while white shoes were simply "preferred."
The true Smurf expert, though, was Matt Murray, the self-proclaimed leading American "Smurfologist" also amongst the crowd. Having been commissioned to write a book on the Smurfs due to be released this August, Murray – who has not only watched every episode of the show, but also read the comics in three different languages –  said, "I know more about Smurfs than people should, and I'm willing to admit it."
Wiping blue face paint from his eyes, the NYU film school grad, now 34, began his path toward "Smurfologist" after curating an exhibit in 2006 on Saturday cartoons. A font of knowledge, he explained to The Observer quizzical aspects of the show: the Smurfs blue coloring, for example, was chosen by the creator's wife, who thought green would blend in too much with the Smurf's forest home, red would stand out too much, and yellow would bring bad luck.
Murray rattled off the names of other Smurf websites – Blue Buddies and Mushroom Village among them – but also maintains his own blog.  When not dressed as a Smurf but in "civvies" (civilian clothing), he wears a Smurf button at all times.
"It's always a great topic of conversation," he said.
No kidding.