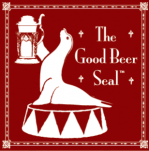 Jimmy Carbone moved through the Tuesday night crowd at Barcade in Williamsburg, slapping backs and grabbing shoulders, the godfather of New York's Good Beer Seal movement in his element. It was a party to induct the newest Seal members.
"This is our third year doing it," Mr. Carbone said loudly over the crowd noise. "The whole point of doing it was just to recognize the small, independently owned beer bars that don't usually get recognized. … Everyone in this room tonight—there's going to be 34 beer bar owners here, and everyone has small, independent beer bars."
A bar earns the Good Beer Seal (the seal appears to your upper left) if a bar is, as Mr. Carbone said, independently owned; if 80 percent of its beer is craft domestics or special imports; and if its staff is knowledgeable about the beer and committed to presenting it properly (e.g., in the right glassware at the right temperature). A group of writers and critics, meeting in a back room of Jimmy's No. 43, picks the bars that get the seal. There's no membership fee.
We wrote a while ago about the possibility of the Seal breaking wide open to include bars outside of the New York City orbit. Mr. Carbone demurred then—"It may just be O.K. to have a select group of good beer places in New York City," he said last spring. "Maybe that's it, maybe that's all it has to be."—and there appear to be no plans now to expand geographically.
The newest Seal members are:
The Stag's Head
Waterfront Ale House (two locations)
Brouwerij Lane
Bierkraft
4th Avenue Pub
The Double Windsor
Mission Dolores
Tuesday's party was a loud, loutish affair, the exact opposite of what you would imagine in the induction ceremony of an association dedicated to the promotion of wine bars. Still, above the din, snippets of conversation could be heard related to beer distribution, beer marketing, beer serving—beer was taken seriously by this crowd.
Mr. Carbone introduced us to Drew Bushong, the former manager of CBGB and now an owner of 124 Rabbit Club at 124 MacDougal Street. As these things go at Good Beer Seal events, we fell into talking about how America, the greatest country on earth and easily the most bibulous consumer of beer in the world per capita, had produced but two originally named styles of beer: steam (as in Anchor Steam, Fritz Maytag's masterpiece out of San Francisco) and cream ale (as in Genesee, what your uncles drank at barbecues in the '80's and '70's).
The rest, we just tacked on the end or the beginning of foreign styles some version of "American," as in American IPA, or caved altogether, as in any Belgian IPA made in, say, Northern California or North Carolina.
"You wouldn't know it," Mr. Bushong, whose bar was inducted into the Good Beer Seal last year, said. That is, he went on to explain with conviction, American brewers have to start labeling their styles as, well, American. Like, Mr. Bushong suggested, "California Pale Ale—or CPA!"
We were in total agreement. It was our kind of night.