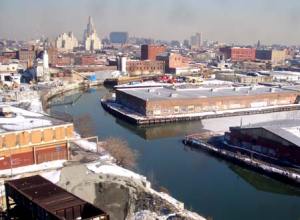 You're welcome, Toll Brothers.
The big-time developers fumed, along with the mayor, when the Environmental Protection Agency decided to designate the Gowanus Canal a Superfund site last year. Playing a game of Hear No Evil, See No Evil, Speak No Evil, Toll threatened to pull out of a big 447-unit development on the waste-filled waterway if it was Superfunded—publicly confirming that the canal was, well, as critically contaminated as everybody thought.
Turns out it's worse.
The EPA has been conducting tests around the Canal in advance of formulating a clean-up plan, and according to their digging, the Toll Brothers site is one of the most polluting on the canal, the Daily News reports. And while the developer promised to remediate the site before building anything on it, it appears such efforts could be insufficient—even when overseen by public agencies:
The site of a Lowe's home improvement store is still leaking pollution into the canal even though a state-monitored cleanup was supposedly finished before the store opened seven years ago, Environmental Protection Agency officials doing a Superfund cleanup of the waterway said.

The state Department of Environmental Conservation dubbed the site clean before the Lowe's opened in 2004, but federal officials say they didn't dig deep enough to get all the dirt. DEC spokesman Michael Bop said, "There may be more [pollution] there, but we went down 20-plus feet…We felt that was satisfactory in this situation. We're continuing to investigate that site." Lowe's also said it was satisfied with the "extensive" cleanup.
There is a similar issue with a third development site, the city-sponsored $300 million Gowanus Green, according to the Post:
With city and state blessing, the gas company has proposed digging eight feet below ground throughout to remove the coal tar, and even further in "some hot spots." But Christos said workers should dig "at least 30 feet down" throughout to remove contaminated soil and guarantee the tar doesn't continue seeping into the canal and nearby properties.

The site cleanup, which the state Department of Environmental Conservation is monitoring, also calls for installing a deep underground wall to prevent further tar runoff into the canal and digging wells nearby to catch some of the contaminants. But the EPA says the plan is flawed because the coal tar is so toxic that it could eat through the wall over time and enter the canal. Meanwhile, private property owners near the site say they're concerned the wall will redirect the toxic tar to their land.
But hey, what's a little coal tar between neighbors? If it's good enough for Toll Brothers, it's good enough for us.