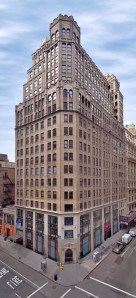 Apparently The Observer's old space wasn't good enough for lefty rag The Guardian—they're now close to signing a lease at 536 Broadway, according to Real Estate Weekly.
Although the American website of the British newspaper previously  considered leasing the old Observer space at 915 Broadway in the Flatiron, it's now heading downtown to the corner of Broadway and Spring Street to look at a smaller space that's between 8,000 and 9,000 square feet.
It could be that Soho is much hipper than the Flatiron as far as eateries and clothing stores are concerned, but it could also be that The Observer's old offices were about 3,880 square feet too big.
The Soho building at 536 Broadway, which Thor Equities purchased for $30 million in 2008, also houses satire king The Onion. Maybe some of its success will rub off on The Guardian's American colony, a website that has failed once before—The Onion is now publicly campaigning for its first Pulitzer, after all.
If the lease goes through, The Guardian will have another British fellow in the neighborhood. The Daily Mail recently signed a lease for a New York bureau at 42 Greene Street. The Guardian is one-upping its competition, however: The Daily Mail's space is only 5,200 square feet.
pengel@observer.com