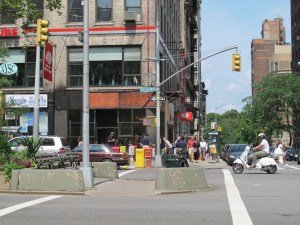 There may be hope yet for bagel freaks on the Upper West Side.
Evan Giniger, a neighborhood resident and the president of retail retail services company Dynamic Resources Inc., stepped forward at a Monday night rally in Riverside Park to say that he could find a way to resurrect the H&H Bagels that just closed at Broadway and 80th. "[Marc Fintz, the shop's former manager] was sort of joking around—he said the two choices would be if somebody finds us a new space or if somebody has some money to invest," Mr. Giniger said.
According to Mr. Fintz, landlord Friedland Properties is trying to raise the rent on the defunct shop's space from $45,000 a month to $67,000. Although that might seem high, brokers confirm the numbers. According to Faith Hope Consolo of Douglas Elliman, the rents are "aggressive" but not unheard of for a corner on the west side of Broadway.
Mr. Fintz says that the landlord is already negotiating with a bank to rent out the storefront. Friedland Properties owns several buildings–including the building that houses Zabar's–on the Upper West Side's changing blocks. (Friedland had no comment.)
Although this is not the first time that money problems are plaguing the bagel business, according to Mr. Fintz, it was the rising rents that doomed H&H. (Though, last year, H&H owner Helmer Toro was sentenced to weekends in jail for stealing more than $500,000 in employee taxes and he still owes reportedly over $300,000 in back taxes.)
"The emotional support is there," Mr. Giniger said yesterday regarding a possible H&H resurrection. "But it has to make financial sense." He said he is in the process of trying to "convert enthusiasm into writing checks."
ksmoke@observer.com