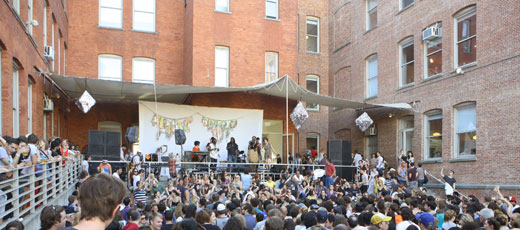 MoMA PS1 announced the line-up for its summer Warm Up 2011 parties yesterday and, despite our fairly strong aversion to live music in museums being well-documented, it's actually pretty good!
The series runs July 2 through September 3 and will include performances by Four Tet, Black Dice, Juan Maclean, Pictureplane, Teengirl Fantasy, the ever-ubiquitous comedy rap trio Das Racist (really, those guys are everywhere), and other skinny jeans-friendly artists. We're probably most excited for the appearance of the female DJ of adolescent rap collective—and toast of the New Yorker!—Odd Future Wolf Gang Kill Them All, Syd the Kyd. For those of you who aren't familiar with the controversial, violent, really talented Los Angeles group, here's a sample lyric: "You like my songs/I like your [expletive deleted]/But deep down I don't really like you, [expletive deleted]."
Museums! Sacred temple or da club? The debate rages on.
mmiller@observer.com