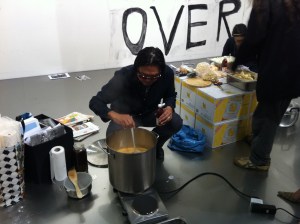 BASEL, SWITZERLAND — Things are really cooking at Art Basel.
No, really: they're cooking.
The smell of curry wafted down the aisles as The Observer neared the row of booths at the edge of the fair designated for the "Feature" section of special projects, many of them solo shows. The Observer rounded the corner at about the same time as a man in a tailored suit who exclaimed to his companion, "See? I told you it was Asian food!" And there it was: a booth full of cooking pots and all the implements of curry-making. In other words, Thai-born, New York-based artist Rirkrit Tiravanija was at work.
The booth is that of 100 Tonson Gallery from Bangkok, whose perky director, Ek-Anong Phanachet, boasted to anyone who would listen — mostly journalists — that hers was "the only Southeast Asian gallery at the fair." Then she promised everyone lunch, as soon as Mr. Tiravanija's work was done. "Lunch is on me today!"
Mr. Tiravanija, who just finished up a show at Gavin Brown's Enterprise in New York — there, he was cooking soup —  took a break from an interview with a Thai TV station to test the curry. He was wearing glasses with pink lenses. Arrayed around him were bowls of peanuts, vegetables soaking in water, boxes of Singha beer and a hot plate bearing a steaming vat of yellow curry. He knelt down at it, stirred it, then drew the ladle to his nose. He then furrowed his brow, muttered something in Thai to a long-haired assistant, and reached for bottle of fish sauce. A woman taking photos, who was evidently a vegetarian and eagerly awaiting the curry, gasped "Oh no!"
Mr. Tiravanija has cooked and served curry as art before, but this particular display is, his gallerist said, on a Middle Eastern theme. Anyone who wanted to could pick up a piece of charcoal and make drawings on the booth's wall about the recent protests in that region. Behind the artist was a drawing of Egyptian protesters carrying a sign that read "Mubark [sic] you are retired."
"You can participate that way," Ms. Phanachet said. "And you can also eat!"
The piece is for sale, but as with a lot of conceptual, or performance-based art, it has a mutable pricing structure: a collector, or museum, could recreate it on a number of different scales, depending on the space available. It could start, she said, around $350,000. She admitted that the booth was not a lot of room. "Lunch is on me today," she said again, then looked around at the growing crowd. "But we can't treat the entire fair."
The Observer didn't stick around long enough for a bowl of curry, but did manage to witness a conversation between Benjamin Godsill, curator at New York's New Museum, and a collector on the subject of: does Mr. Tiravanija's cooking art make sense in the highly commercial setting of an art fair?
Mr. Godsill had the last word, declaring that he didn't see a whole lot of difference between this and a gallery. "Both public spaces are inherently policed by their structure," he said. "That's always been acknowledged by the project. It's as open as it can be, given the constraints. I love it!"