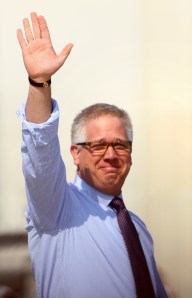 "Seems Glenn Beck and I chose the same day to announce our imprints. OK, Beck–it is ON," wrote Eamon Dolan on Twitter yesterday, when news broke that Glenn Beck will be expanding his empire of wild-eyed zealotry with Mercury Ink, a new publishing imprint with Simon & Schuster. Mr. Dolan, for his part, announced his departure from Penguin Press to head an eponymous non-fiction imprint at Houghton Mifflin Harcourt earlier this week. It will be a fresh start for both of them: Mr. Beck lost his show on FOX News this spring; Mr. Dolan lost his editor-in-chief title (dutifully sacrificed to Ann Godoff after the return of Scott Moyers, the prodigal son of Penguin Press).
We considered an actual Beck/Dolan rivalry. What sort of narrative non-fiction young adult book could Mr. Dolan possibly acquire to rival Mercury Ink's first announced book, a young adult novel by Richard Paul Evans, who is a purveyor of feel-good, Jesus-exalting stories like The Christmas Box? (The book to be published by Mercury, Michael Vey: The Prisoner of Cell 25, is about a 14-year-old who not only has Tourette's syndrome but also "electric powers.")
Mr. Dolan could consult his Houghton Mifflin backlist — Eric Schlosser might produce something, except that everyone in high school already reads The Jungle. Or Jerome Groopman, except books about being a doctor are boring if you're not a doctor, or a hypochondriac. What to do?
Beck: 1 Dolan: 0