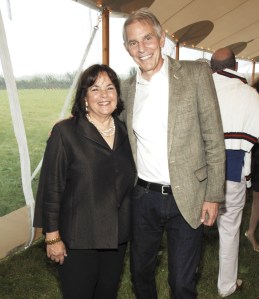 The well-fed friends of Ina Garten convened in the Hamptons on Saturday for a "Barefoot Under The Stars" fundraiser for the conservationist Group for the East End. (Nevermind that it was more like "In Heels Under A White Tent Indistinguishable From The Miserable Cloud Cover".) Among them were the Ina Industrial Complex, i.e. power couple Stephen Drucker and Frank Newbold.
Ms. Garten wrote a column for House Beautiful when Mr. Drucker was editor-in-chief,  as well as one for Martha Stewart Living during his tenure there. Martha Stewart is one of Ms. Garten's mentors and Mr. Newbold is Ms. Garten's business partner. When Mr. Drucker left Town & Country after editing it for a brief nine months, some speculated that his tangled affiliation with the Barefoot Contessa was to blame.
Now that her favorite editor's a free agent, The Observer asked Ms. Garten if she was planning on collaborating with Mr. Drucker.
"We always do!" she said, "I admire him and I trust his advice so much. I don't do anything in media without checking with him."
Ms. Garten said she had no immediate plans in media, but that she's working on figuring out social media.
"I really want to take the time to understand it and do that," she said.
(Her twitter satirist has a handle on it.)
Ms. Garten's Hamptons bona fides need no defense, but it turns out she's a legitimate environmentalist, too. Did you know that "[in] 1978, Ina Garten found herself working in the White House on nuclear energy policy and thinking, 'There's got to be more to life than this!'?"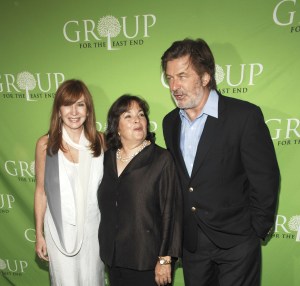 Also-serious environmentalist Alec Baldwin was there too, sporting long hair and a white beard. It might have been for a role, but it also fits his Hamptons persona. A couple years back he told the New Yorker:
"In East Hampton, I'm a nudist and I eat meat," Baldwin [said]. "I shoot deer with a bow and arrow. I smoke the deer meat and eat it every morning with my eggs and toast. I am a homosexual. I listen to rock music, loud."
Perhaps we should get used to this side of Mr. Baldwin. He told Interview he'd become a permanent Hamptons resident in order to avoid NYC income taxes.