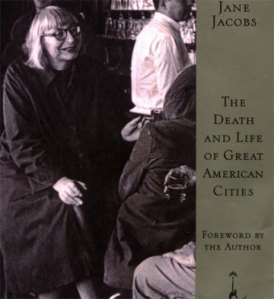 In 1968, Jane Jacobs got fed up with New York and moved to the socialist paradise of Toronto. She lived out the remainder of her days, until 2006, in a tree-lined symbiosis of delightful organic tea stores and Victorian homes, which today sell for no less than $1 million each.
You can't throw a stone in Toronto—and increasingly in New York—without shattering the glass windows of a modern condo tower. In fact, for fresh-faced 20-something Canucks with a law firm job or bank job and 1.2 dogs, the modest one-bedroom condo purchase is a rite of passage, even as the city remains one of the most affordable and diverse in the world.
Gotham is catching up in condo ubiquity to its neighbor to the north—from the Rushmore, lousy with celebrities, to Williamsburg's answer to the condo phenomenon, The Edge, to the king of them all, 15 Central Park West, to everywhere, in every neighborhood, even in the ones The Times so delicately labels "emerging." This year marks the 50th anniversary of  Jacobs' Life and Death of American Cities, and it is in this Valhalla of the sky, not the leafy, $6-latte-lined streets of the Village, where Jacobs' old home at 555 Hudson Street sold in 2008 for $3.5 million, that her dream of urban idyll lives on.
"A condo has replaced a town," said Louise Sunshine, a marketer who, while with the Trump Organization in the 1980s, virtually invented modern marketing for the modern New York condo. "It's a place where parents feel comfortable, where their children go with their nannies and made friends. They've bonded there."
In the beginning, the isle of Manhattan was filled with co-ops, and it was not good. "People in new York lived like pilgrims," said self-storage kingpin turned luxury condo developer Adam Gordon. "They were doing everything but huddling around a wood stove just to live in Manhattan: no air conditioning, low ceilings, three kids and a nanny stuffed into a little room next to the laundry."
There was really only one benefit: "Co-ops are a great ownership structure for people who hate people," said John Tashjian, director of Centurion Partners, of Battery Park's Riverhouse fame.
Then along came Donald Trump in all his bombastic glory, giving hope to anyone who's ever failed a co-op board interview. "You see a city with a subtle undertone of bigotry, which was permeating the apartment market through the 1980s," said Mr. Gordon. "The Trump buildings announced to the world that the best housing for New York was for sale. It wasn't by appointment only."
The Trump International on Columbus Circle was the first really desirable condo to live in here. But, especially because part of the building was a hotel, it was so much more than that. Jean Georges! A concierge! An (almost) Olympic-sized pool!
We are all Jacobeans now, even if most of those we talked to haven't read the book:
"Well, I can talk to you more about what the Trumps could do for condos than what condos could do for New York City," said Ms. Sunshine, who was nonetheless happy to talk about how much she loves her condo at The Laurel: "I'm sort of a loner. I'm not really a joiner. But for people with children, it's really great to have this feeling of natural support. Usually you have to go out to the local Y."
Eric Trump, one of Mr. Trump's brood, was likewise reticent to nerd with us about urban planning theories, but he did give us a catchy slogan: "They're not so much a place just to live. They represent a lifestyle… In order to take of all of your other needs, you never have to leave the building."
It could be Miami or Dubai up in here! Or Brooklyn!
So we turned to the head of the Real Estate Development Program at Columbia University, Vishaan Chakrabarti, who seems to have actually read the book. "The vertical density that condos represent, usually are attached to thriving neighborhoods," he said. "Condos produce a lot of street level activity, which were the main things that Jane Jacobs was focused on."
Yes! Exactly! But, we queried, couldn't you argue they also drive that activity inside?
"If you look at a project like Time Warner Center," Mr. Chakrabarti continued, "before the project was built, people feared it was going to internalize a lot of street-level activity. If you look at the area around Time Warner, those areas are all thriving. It creates a lot of street-level activity."
Needless to say, this clever little theory has its detractors.
"That is totally wrong-headed,' said Brooklyn College professor Sharon Zukin, author of Naked City, a modern day guide to New York City development, her voice rising just a touch. "Fifty years after Jane Jacobs wrote the book, when we conceive of a sense of community, we are so beaten down by fear and by privatization that we have bought into the idea that you can have a sense of community in this interior, private world of a condo."
Said Stribling broker Bruce Ehrmann more succinctly: "I certainly wouldn't call every development that has a foot massager or a virtual valet what Jane Jacobs would have wanted."
But to bolster our case, we turn to Jacobs herself, who wrote of the Meatpacking District back then:
The continuity of this movement (which gives the street its safety) depends on an economic foundation of basic mixed uses. The workers from the laboratories, meat-packing plants, warehouses, plus those from a bewildering variety of small manufacturers, printers and other little industries and offices, give all the eating places and much of the other commerce support at midday. We residents on the street and on its more purely residential tributaries could and would support a modicum of commerce by ourselves, but relatively little.
Yes, she's referring to Hudson Street, whose streets once ran with pig blood and is now crowded 24-7 with tourists, celebrity loiterers, douchey bar-goers and, of course, condo dwellers. As imperfect as ever, could a glassed-up New York be exactly where the inimitable Jane Jacobs would have wanted to live?
lkusisto@observer.com