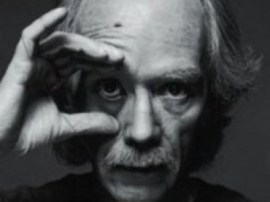 While on the set of his last film, the cops-in-space romp Ghosts of Mars, John Carpenter decided he was done making movies. That was 10 years ago. Like much of his work since the '70s, he had written the film's script, composed the music, and directed. He was tired and with good reason. Many of his films have been critically derided, box office flops. The Thing, his classic remake of Howard Hawks' The Thing from Another World, cost $15,000,000 to make and made just under $14,000,000 upon its initial release. The New York Times called the violent film about a parasitic alien "foolish" and "depressing" among other things. But, also like many of his films, what was at first an unequivocal failure went on to amass an ever-growing coterie of loyal followers.
Mr. Carpenter may be a Hollywood outsider, but he is also one of the great filmmakers of the horror genre. A stark minimalist who favors tension instead of gore, which is too rare these days. A decade after calling it quits, Mr. Carpenter is back with a new film, The Ward, a psychological thriller about a killer in a hospital for troubled young women. The Observer caught up with Mr. Carpenter by phone to talk about his return to filmmaking.
Why did you stop making films?
I was burned out. Absolutely burned out. I had lost my passion.  I'd been making movies for decades. On top of that sometimes I was writing, sometimes composing. I just had to get away from it. I had fallen out of love with the process.
What made you want to start directing again?
It was a number of things. I regained some of my passions. I worked on this cable television series for Showtime called Masters of Horror. They were one hour long. They were short. But I had fun again. I had fun on set. The scariest scenes in a horror film are the most fun to shoot. So along came this movie, The Ward, it was a small budget film. Kind of this psychological thriller with an ensemble cast of young female actors. It just made sense for me.
When you first started in the film industry, what drew you to horror?
I grew up in the '50s watching movies. My favorite movies were science fiction horror movies. Fear is one of the emotions that's universal to everyone in the world. Everyone is born afraid. Comedy doesn't always travel across cultures. Drama is different in different cultures. Horror works everywhere. It's something we all share in common. We're all afraid of the same things.
Like what?
I'm thinking of things like loss of a loved one, loss of identity. Fear of the dark, fear of one's identity. At some point in your life, we're all afraid. The first modern American horror film was Psycho. Modern horror began before that really with a British film called Peeping Tom. Before that it was English romanticism. Dracula and Frankenstein. Cobwebs and all that. But those movies are about people obsessed with psychotic things. Underneath that they were human.
Are you going to continue making films?
I'm developing a couple projects. They're at various stages. I'm much more relaxed now than I was when I was younger. I'm enjoying life. I'm enjoying work. I'm looking forward to the NBA basketball season in the fall.
It's kind of a legend by now that Michael Myer's face in Halloween was made from a William Shatner mask. Of all things, why William Shatner?
Halloween was very inexpensive. We didn't have enough money to even make a mask. So the production designer went down to a costume shop on Hollywood Blvd. and bought a number of different masks. One of them was a Star Trek mask, presumably of Captain Kirk. I mean it didn't look anything like him. But we spray painted it and cut out around the eyes and messed with the hair until it didn't look human. The Halloween character is a stand in for the forces of evil. It isn't supposed to be human. The mask resembles something human, but it isn't.
Well it really scared the pants off me.
I'm glad! I hope it did psychological damage to you. Then I did my job.