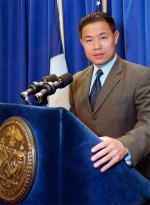 According to a report in today's Times, U.S. Attorney Preet Bharara sent a letter to City Comptroller John Liu urging him to back-off making public statements or meddling with their probe of the investigation into CityTime, the Bloomberg administration's troubled automatic payroll project.
Today, Liu is out with a statement saying that he has done no such thing.
"My office's review of the CityTime project, which defrauded taxpayers of millions of dollars, has not interfered with the ongoing criminal investigation, nor have we been informed that it has," he said. " We applaud the U.S. Attorney for charging seven people and recovering $28 million to date.  We are committed to working cooperatively with all law enforcement agencies."
According to the story, Liu, who has been one of the mayor's fiercest critics, forced prosecutors to act before they were ready when he released a letter indicating that the project's senior manager had been fired.