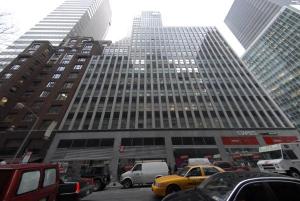 It's very rare indeed for us to uncover a tenant so prospective they haven't even started looking yet. But with a hot rumor that L&L Holdings plans to build a new office tower at 425 Park Avenue, Kaye Scholer may need to start hunting for a massive block of space any day now.
The sale of 425 Park to TIAA-CREF, the pension fund manager, hit public records last week, as noted by Real Estate Weekly. The seller of the fee was the Goelet family.
But note the more important detail, that David Levinson's L&L has a long-term net lease on the property, with a sublease to a partnership that expires in 2015. L&L  plans to hold an architectural competition to develop the site once they take control in 2015, and turn it into a brand-new, 600,000-square-foot building, according to a source. Given 425 Park's perfect location on the corner of 56th Street, currently wasted on the uninspiring Kahn & Jacobs-designed building, that seems like a wise bet.
Kaye Scholer, a law firm with more than 450 associates around the country, currently occupies 300,000 square feet in the building until 2015. They're represented by Craig Reicher and Tim Dempsey of CB Richard Ellis, who declined to comment, except to say the firm hasn't started looking yet.
As source close to the company said that plans have not been finalized. L&L declined to comment. What's certain is that when and if they do venture out, Kaye Scholer will be one of the largest new tenants to come on the market in a while.