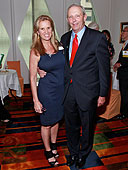 The Jefferson Awards were held on Wednesday at famed New York eatery Le Cirque.  At the intimate gathering, honors and accolades were bestowed upon individuals for their charitable initiatives.
Attendees schmoozed and sipped champagne upstairs before lunch began. The Observer talked with the proud parents of Talia Leman, one of the youth honorees who manages an international NGO at the tender age of sixteen.  Mrs. Leman, an Iowa native, gushed about her daughter and explained why the day was so special. "Talia has a relationship with someone in the audience who doesn't know about it and she's going to tell everyone in her speech!" She squealed. "She flew in from Warsaw just to be here!" The Observer smiled rather confusedly as our imagination ran wild. What hushed family secret would the Iowa teen reveal in front of New York's philanthropic elite?
The truth was much more poignant than scandalous. Talia told the audience that her Jewish grandfather, who escaped from Europe during World War II, had cleaned houses upon arriving in America.  And the secret was revealed! One of the houses he cleaned was owned by relatives of Marlo Thomas, another Jefferson honoree of the day. It's a small world after all and, evidently, even smaller at Le Cirque.
The Mistress of Ceremonies, Kerry Kennedy, gracefully presided over the event, carrying on her family's tradition. Her aunt, Jacqueline Kennedy Onassis, co-founded the Jefferson Awards in 1972.  Fellow co-founder  and longtime political pundit Sam Beard also attended. "I come from a family of politicians, and if I learned one thing it's never to get between an audience and their food," proclaimed Ms. Kennedy as white-tie clad waiters entered the dining room. A collective guffaw rose from the crowd.
Former NFL superstar Ronnie Lott presented the award for Outstanding Service by a Professional Athlete.  Mr. Lott opted not to use the microphone at the front of the room and instead addressed himself directly to Table Six which was unfortunately situated directly behind the dining room's mammoth tent-pole centerpiece.
More awards were presented as guests nibbled on hazelnut profiteroles. Toward the end of the ceremony some attendees began to look anxious, clearly concerned about making their 2:15 meetings. After a hasty finish and a hearty applause, guests filed out of the dining room and into the warm New York afternoon.