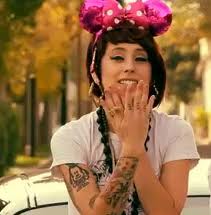 White girl mob boss Kreayshawn is scheduled to "play some music" at the office of The Huffington Post/AOL today, according to a tipster.
AOL Music industry relations rep Adam Horne wrote in an email yesterday:
"Oakland-based, Odd Future-approved, Arby's-hating rapper Kreayshawn will be coming by the office to play some music and visit the staff tomorrow at 11:30am. You might recognize her from the Summer anthem (and viral hit), 'Gucci Gucci.'"
With just the one viral video–and in spite of less obvious obstacles like being flat chested and not having cable–Kreayshawn signed a record deal with Columbia this week. An Oakland-based 21-year-old, she has largely been described as female corollary to Odd Future, for whom "swag pump[s] out her ovaries." Not unlike noted sex symbol Arianna Huffington!
Huffers: Send photos of Kreayshawn and Arianna, unreleased tracks, and answers to the question "For what crime was V-Nasty locked up?" to kstoeffel@observer.com