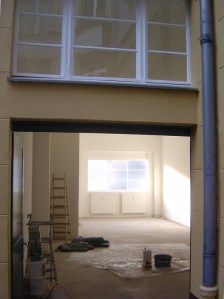 The Lower East Side's Horton Gallery will host a second season at their 1,100 square foot-space in Berlin, owner Sean Horton announced today. The new season also comes with a new gallery director for the space.
Much of the motivation for the move, Mr. Horton told The Observer, was a desire to discover Berlin talent and bring it to New York. The Berlin gallery director Colin Huerter has been there since March, making the rounds.
"It's a slower pace," Mr. Horton said. "Which allows for a much more engaging dialogue about the art whereas the conversation in New York is very much about the market, which is not a negative necessarily, but the conversation you can have in Berlin is a much slower pace you can spend time with people coming in the gallery."
"New York, it's very market-driven, very career-driven," he added.
Mr. Horton spent four months there last year for the gallery's first season, but is eager to return. Mr. Huerter comes from a diverse background as a curator, art consultant and poet. His most recent show for Horton Berlin is a group show titled, "A Momentary Stay Against Confusion," a phrase used by Robert Frost to define a poem.