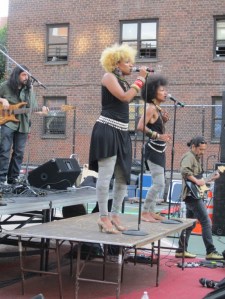 Yesterday, The Observer was in the unfamiliar territory of the Walt Whitman Housing projects of Greene County, Brooklyn, where a Nü Revolution was taking place in the form of a musical performance by Les Nubians, a band led by the French-born Afropean sisters Célia and Hélène Faussart.
As The Observer walked through the neighborhood to reach the Soul of Brooklyn festival's Monday highlight, stereo sounds boomed from the midst of tall red-brick apartment complexes, where a packed audience in a dingy basketball court watched as the youth dance group Ambassadors for Christ took center stage.
"They look so serious," a hefty lady sitting next to The Observer complained. It made sense; after all, they were dancing to the tune of "Waiting On The World To Change."
Unwilling to wait on the world was the founder and executive director of Soul of Brooklyn, Laurie Cumbo. A neo-Malcolm X for her people, Laurie dreamed up the festival events, including this one, to break the cycle of cultural deficiency and social stigma that pervaded the projects.
A contagiously enthusiastic Laurie gesticulated and shouted into her microphone: "You had a Harlem week? Now we gotta start a Brooklyn week!"
Indeed. When the Grammy Award nominated Les Nubians sisters appeared—in tall fros and white face paint (a tribute to Fela Kuti), and wearing eccentric black dresses made by designer Clark Sabbat (whom the sisters referred to as their Haitian brother) and jewelry from all over the world—they certainly were a celebration of the African diaspora. Célia had a special name for the duo's style, "pirate," and expounded in an endearing French accent, "because we wear things made by our people and like pirate, we put them like it's our treasure."
The duo delivered by rolling out a soulful mixture of R&B, hip-hop, and Afrobeat. The music started out with a fast and booming drum rhythm, and The Observer found herself grooving along.
Hélène invited everyone to stand up—"unless you're invalid." She called all the children to come to the front, and a boy rode his bike up to the stage to touch Hélène's toes (he told her he didn't like them). After the show, the same boy found an opportunity to point out Hélène's cigarette and ask her why she smoked. Quickly dropping the cigarette into her bag, Hélène responded, "Célia smokes. I don't."
Moments later, Hélène stood in relative privacy behind a U-Haul truck and lit a cigarette, conceding to The Observer, "Smoking is a very bad European habit. We're bad Europeans. I'm working on quitting."
In addition to quitting cigarettes, Hélène has another life goal—attaining a universal passport. She believes in 21st century global interconnectedness with a passion that caused her to stumble in her English: "My gas emission, my gas pollution—the whole fucking world, not only your fucking city! The whole world is affected by that…all of us!"
By 9 p.m., the basketball court had been cleared. The pop-up show had disappeared just as suddenly as it emerged and the neighborhood resumed its daily hum. Célia was looking for the right words to describe the significance of playing music on a basketball court in the projects.
"It's their home," The Observer suggested.
"Yes!" she quickly agreed, "The show's for them first."