Well, it looks like New York's ugliest building is staying that way.
Once upon a time, when the days could still be described as heady, Taconic Properties bought 375 Pearl Street—the old New York Telephone monstrosity turned Verizon sentinel overlooking the Brooklyn Bridge—paying $172 million. Things are decidedly less heady for downtown real estate—well, sort of—so Taconic's plans for a glassy new office tower were shattered.
Not to worry, for the frothy tech sector has come to the rescue.
Sabey, a private data center company out of Seattle, closed on the building yesterday for $120 million, $20 million more than had previously been reported, and just $5 million shy of the original asking price, so good news for Taconic's creditors.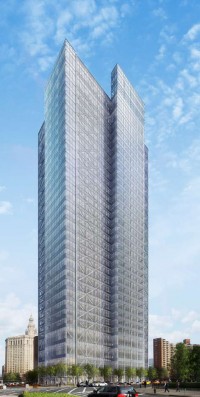 But bad news for the rest of us. According to a Sabey spokesman in New York, the company does not intend to change the building's barren concrete bunker of a facade. It will continue to glower over the Brooklyn Bridge, casting a pal on tourists' photos the world over. As for the Verizon sign, the telecom is buying three of the 32 stories back from Sabey, so it could stay, but it could also become a giant Sabey sign or even go up for sale–Taconic had considered just a Tokyo-style possibility.
The company is clearly psyched on the deal, splashing it across their homepage already. They have plans to double the building's capacity from 18 Megawatts to 40, about the size of Facebook's controversial data center in Oregon. Consider that during peak days in the summer, like today's sweat fest, the entire city burns through 11,000 Megawatts. That gives this guy at least 0.3 percent of the entire grid, which may not sound like a lot, but we're talking a city of hundreds of thousands of buildings here.
Fear not, Park Slope, for the building will be "green." Sabey is promising the most energy efficient data center in the city. It's secure, too, located as it is near One Police Plaza, a press release claims. Also:
Intergate.Manhattan [that's what they're calling the joint] will be fully managed and operated by Sabey technology staff.  It will offer fully turn-key technology solutions tailored to users with varying space, power, and connectivity challenges, as well as data center ready shell space for tenants that choose to design, build, and operate their own data center within the building envelope, leveraging its robust core infrastructure. The building's floor plates and layouts and high clear heights are ideal for data centers as well as bio technology research and many other critical environments.
"We are delighted to provide an essential service for both existing requirements and the growth of new scientific, academic and medical research centers in a resurgent lower Manhattan and to be part of its ascendance as a world capital for data-based enterprises of all types," company president John Sabey said. Located as it is near to Wall Street and Soho, finance and tech firms seem like prime clients, as well.