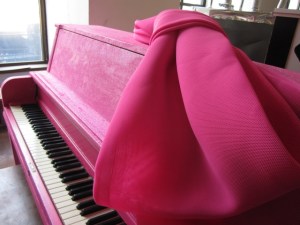 Who needs the High Line when you have a bright pink piano covered in glitter?
We caught up with one woman who was playing the pop-up instrument in Herald Square as part of a first-day-of-summer celebration. We asked her how East Chelsea was doing now that its western neighbor had that snazzy, somewhat snooty High Line.
"Living here is exciting," said Hiroko Tanabe, 70, gesturing at the piano. "It"s noisy, but I like it. Especially this." She lives at 29th Street and Broadway, and told us that she thinks the High Line might detract from East Chelsea's pedestrian population.
But she was the only we talked to who thought so. Everyone else gushed about how much they loved the diversity and culture of East Chelsea, thunder the High Line isn't likely to steal.
"This area is very populated. I don't think [the High Line] will take that away," said Roman Podolskyy, 20, who has lived in New York City for nine years but originally hails from the Ukraine. "There are a lot of mixed [cultures] here."
Michael Walikowski, 22, came to New York from Poland with the dream of playing piano in a Broadway show. He might be experiencing some East Chelsea culture shock, but he said he enjoys it.
"It's a cool culture, different from the culture in my country," he told The Observer. "There is a lot of diversity."
And it's easy to see why everyone would notice.
"I'm just sitting here to relax, and I'm seeing a whirlwind of so many people," said Fazal Mohamed, 54. "If I sit here for 30 minutes, I can hear 15 different languages."
So maybe that's East Chelsea's solution to all the snazzy new development west of Eighth Avenue. You can make new parks and buildings, but you can't manufacture culture.
pengel@observer.com