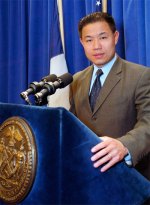 U.S. Attorney Preet Bharara and Department of Investigations commissioner Rose Gil Hearn announced today that CityTime, the Bloomberg administration's automated payroll project is even more troubled than previously thought.
The officials now allege that nearly all of the $600 million earmarked for the project is tainted as they announced charges against four new defendants associated with the project.
In just the few months since the first announcement of arrests and seizures, we have developed evidence that the corruption on the CityTime project was epic in duration, magnitude, and scope," Bharaha said. "As alleged, CityTime served as a vehicle for an unprecedented fraud,which appears to have metastasized over time. But as stunning as the allegations are, our resolve is even stronger. We will continue to aggressively investigate the CityTime project until every criminal participant is brought to justice. And we will not rest until –- one way or another — every penny of fraud isrecovered and returned to the City."
If the announcement was bad news for Mayor Bloomberg, who has prided himself on his managerial acumen, it is good news for City Comptroller John Liu, who earlier had been accused by Bharara of meddling in the investigation but who today sent along a helpful timeline of his involvement in the investigation:
Comptroller John C. Liu's Record on CityTime:

Jan. 1, 2010 Comptroller John C. Liu takes office, and makes the elimination of fraud, waste and abuse his top priority.
Feb. 9, 2010 Rejected additional contract related to CityTime.
Feb. 25, 2010 Initiates audit of CityTime Project Oversight.
Mar. 3, 2010 Liu calls on Mayor to freeze all payments associated with CityTime; appoints new representative from the Comptroller's Office to OPA.
Sept. 28, 2010 Liu and mayor Bloomberg announce agreement to finish installation of CityTime at no additional cost.
Says Liu:
"Today's announcement unfortunately sheds more light on just how flawed the management of the CityTime project was. According to the indictment 'virtually the entirety of the more than $600 million that was paid to SAIC was tainted directly or indirectly, by fraud.' New Yorker's can hope that this will eventually lead to restitution for the hundreds of millions of dollars paid on an out-of-control project, years overdue and, ten-fold over budget."