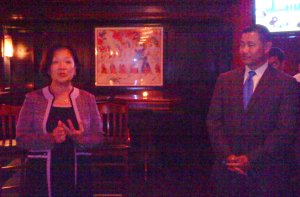 On Monday evening, John Liu joined Mazie Hirono, the Hawaii Congresswoman mulling a run for the U.S. Senate, at the Houndstooth Pub on 37th Street.
The two got to know each other at the Congressional Asian-Pacific American Caucus, and they share something of a path-breaking pedigree: Liu became the first Asian-American elected citywide in 2009, and Hirono was the first Asian naturalized citizen to be elected to Congress back in 2006.
Before the event, Hirono mingled with the political junkies, reporters, and community activists of the Democratic Leadership for the 21st Century.
On stage, Hirono engaged the group with tales of her childhood and emigration to the United States aboard the SS President Cleveland, traveling steerage.  Throughout the evening, attendees shifted their gaze between the 5-foot-5 political activist and the newscasts on the television behind her, awaiting any news out of Albany on same-sex marriage. "We're seeing history right in front of us, two-fold", remarked one attendee.  "I hope they  have the courage to do the right thing," Hirono said of New York's Legislature.
"I'm a progressive Democrat, Hawaii is a progressive state," she assured the crowd. Hirono harped on the significance of creating and keeping jobs, revamping the economy, and creating transparency in government affairs. "People are hurting in Hawaii, in this country. I am concerned about jobs. People need to understand that I'm on their side."
Asked why she was in New York, Hirono joked: "More votes, more money!"
Hirono is considering a run for the Senate being vacated by Daniel Akaka, the longtime congressman who in 1990 became the first native Hawaiian elected to the upper chamber, and recently announced he wouldn't seek a fifth term.
"Every single day I'm on the (House) floor, I hear the ridiculousness. You can't change the minds of those in power until you change the bodies," said Hirono.  "You can't solve infrastructural ailments and problems in one year, two years…it takes time, and likeminded people."
With Comptroller Liu by her side, congratulating her in advance for her impending win, the two waxed poetic on their mutual affection for the American political system. "It affords people like us to serve," Hirono said. "For someone who literally 'got off the boat,' it's pretty awesome!"