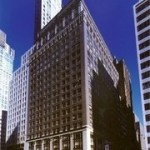 Macy's, the 150-year-old retail behemoth perhaps known best for its annual Thanksgiving Day parade, has inked a 10,000-square-foot expansion deal at its longtime corporate office on Broadway, brokers said.
The transaction at 1440 Broadway comes just six months after the 800-location retail brand announced a 56,000-square-foot expansion at the tower back in January. All told, Macy's will occupy 170,000 square feet in the fully leased Monday Properties building, which also houses Liz Claiborne and Mizuho Capital Markets, among other fashion and financial services companies.
CB Richard Ellis vice chairmen Scott Gottlieb and Michael Laginestra represented Macy's in the transaction while Jordan Berger of Monday Properties represented the landlord in-house.
"Macy's latest expansion at 1440 Broadway follows our core approach to supporting each tenant's business," Brian Robin, COO of Monday Properties, said in a statement. "Monday Properties identified an off-market growth opportunity for Macy's that allowed the tenant to make a smart real estate decision without the need to look anywhere else."