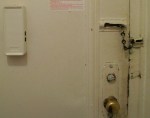 The rental market is up and the rental market is down, according to the newly released Manhattan Rental Market Report.
Although the report, released monthly, shows that rents were up by 1.82 percent overall from May to June, a closer look reveals that rents are rising in some areas and falling in others. Also, the survey doesn't include every apartment on the market—understandable, given how freaky Manhattan housing arrangements can get—but instead gives just a rough idea of pricing trends.
For example, rents are up for non-doorman studios on the Upper West Side but down for non-doorman one-bedrooms. Many neighborhoods are listed under both the "where prices decreased" and "where prices increased" categories with prices varying depending on the type of apartment, making it a little difficult to ID a trend for one neighborhood across-the-board.
The report does make this statement: "Overall, the rental market appears to finally be making the healthy gains we've been waiting for." If it means rent prices climbing to ridiculous levels as "healthy gains," the report might be spot on. Happy summer.