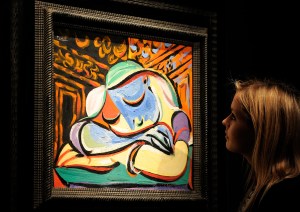 Call it the latest symptom of Marie-Thérèse fever!
Last week I wrote about the Picasso market, specifically with regard to the increased interest in works featuring his lover Marie-Thérèse Walter. Yesterday Christie's London held the auction referenced in that piece (the Impressionist and Modern Sale) and the star Marie-Thérèse, Jeune fille endormie, sold under hammer for 13.5 million pounds, over a high estimate of 12 million. The painting was sold by the University of Sydney, which obtained it through a donation and will use the funds for scientific research.
It actually wasn't the most expensive painting sold at the auction. That honor went to a depiction of the artist's next lover, Dora Maar, so if you have an extra twenty million dollars or so lying around, now may be the time to invest in those!
Updated, 10:30 a.m. to include sale roundup.