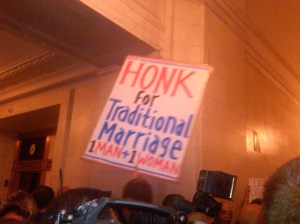 The same-sex marriage debate in the State Capitol is heating up, with supporters one vote shy needed to pass it, and opponents flooding the hallway with hundreds of critics, praying and singing loudly.
"I shall not be moved" and "Victory is mine" are among the songs they're singing.
This organized, loud opposition to marriage has largely been absent from the debate, where Republicans are openly considering passing the bill with expanded protections for religious groups.
Nobody, so far, is protesting outside Governor Cuomo's office on the second floor.