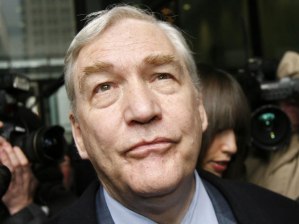 Fraudulent publisher Conrad Black has found a publisher for his "set the record straight" memoir, writes Decoder.  There's only one hitch: the felony on his record derails the  book tour in his native Canada. He is ineligible to re-enter without special permission.
Chuck Townsend has given Conde Nast WTC interior architecture firm Gensler potentially disastrous instructions. "They want really designed efficient, effective space — really flexible space," Robin Klehr Avia told WWD. "They talked about the concept of flexibility and being a space where communication can happen, where people can work together as teams." In a few years, having a door to close will be the new having a private bathroom.
Anderson Cooper seeming a little flat to you lately? His new daytime show–Anderson–will fix that. "It's nice to do something that shows you as a fully-rounded person," he told Broadcasting and Cable.  "I think people know you can be incredibly passionate about what's happening in Syria and you can have guilty pleasures." We only have to wait until September 12 to discover the multitudes he contains.
Litigious birthers Joseph Corsi and Jerome Farah are still suing Esquire over the satirical blog, which said the two had scrapped their book after President Obama produced birth certificate.  Their lawyer told Adweek that their case was different than the landmark Supreme Court ruling that a parody advertisement in Hustler in which Jerry Falwell is depicted as losing his virginity to his mother in an outhouse was protected under the First Amendment:
"It wasn't so unbelievable as what was said about Falwell," said Klayman. "People reasonably assumed that [the Esquire article] was reality. If you were going to have sex you probably wouldn't choose an outhouse." After being prompted by Adweek, he added, "Or your mother."