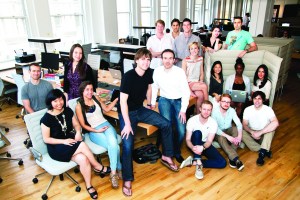 I wrote this week about tech start-ups in the art world and there was too much to include in just one article. Everyday last week another e-mail would arrive announcing a new iPhone app, an art discovery site or a place to buy art online. One notable name that did not make it into the piece was Artnet, who has been in the business of bringing the artworld online for longer than anybody. I spoke to Walter Robinson, the editor of Artnet's magazine as well as a practicing artist who has a work in Paddle8's upcoming Glenn O'Brien-curated sale. He said he doesn't pay much attention to what goes on online, but he knew of Art.sy because his friend Elliot Arkin. Mr. Arkin runs a not-for-profit traveling ice cream truck filled with art. It is called Mr. ArtSee. He is not pleased with the site's name.
Mr. Robinson himself was skeptical about the whole issue of art discovery and transaction on the web.
"Why does anybody get into a money losing line of work?" Mr. Robinson said. "I mean, you and I are kind of involved in one." (I sighed in agreement.) "I guess the people involved are passionate. But the more corporate response, is they see promise in this line of business. Artnet started 15 years ago, and back then, the idea that you could get Acquavella on his computer to think about art seemed as far from reality as Earth is from Mars."
Times sure have changed: Alex Acquavella told me he was enthusiastic about the gallery's involvement in Art.sy.